Corkers sister company Buffaload Logistics are a national company moving food products in temperature controlled trailers.
Under the current coronavirus restrictions, and in the face of panic buying which ran out of control during the first weeks of March 2020, Buffaload have been busier than they usually are at Christmas.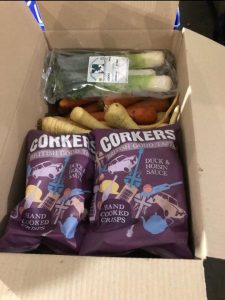 The UK Government lifted restrictions on driver hours to try to keep food in the shops, so the combination of these things means that drivers, warehouse teams and planning and admin staff at Buffaload have been working very hard indeed and in some cases, doing longer hours.
Ross Taylor, CEO of both Corkers and Buffaload, asked his Corkers team if they would put together potato and veg boxes for Buffaload staff. Keeping the food supply chain is a priority for all of us, and Corkers colleagues were happy to put together 500 boxes of veg, and crisps!
The boxes, made for packing crisps, which are light, weren't quite up to the job and collapsed a bit, but they were delivered over to Buffaload and the workers there were really pleased to get such support.
"Just wanting to say a massive Thank You to Ross (& the Corkers packers) for my veg & crisp box. Now I have a day off I can get thinking on how to make the best use of it all!"

Nina, Class 1 driver
---