Corkers founder Ross Taylor, with members of the local Parish councils, began an ongoing scheme to deliver supplies to those in isolation or with vulnerable family members and those who are in high risk groups.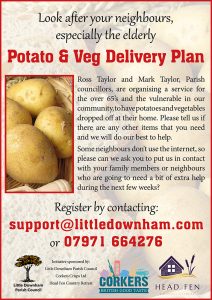 Mr Taylor and colleagues are sourcing the food supplies and teams of volunteers are collating and delivering the requests. The veg boxes are completely free and the service will continue as required.
"My neighbours are thrilled! Thank you so much. Very kind and generous of you all. 😊"

B.A.
"Thank you so much for Nanna and our neighbours' box of veg etc. Both are very grateful. 😊"

A & S M.
"Thank you. I got a box of goodies this evening including your potatoes and it is a great morale booster as well as the basis for many a meal."

L.S.
"Hi, can't thank you enough for delivering my neighbours' potato and veg box! They are thrilled. Really kind gesture. And very much appreciated by me also. Thanks."

B