East regional winner Corkers Crisps is a gourmet crisp manufacturer based near Ely. Corkers Crisps won two awards in the regional finals – Best Food and Drink, and the Fisher German-sponsored Outstanding Rural Diversification Project, which recognises farms that have gone above and beyond to offer something different.
Caroline Bosworth, Head of Business Development at Corkers Crisps, said: "What started off as a bright idea on a ski trip has grown into a highly successful business which turns over around £10 million. The peaty soil of the Fens gives our potatoes a distinctive taste and crunch, making them perfect for crisps. We're ever hopeful we can win the national award, but even if we don't, we can't wait to meet the fellow finalists and learn about all the great things they're doing. We just feel very privileged to have been recognised – we're only a tiny company in the middle of the Fens who loves doing what we do. To have that acknowledgement is fantastic."
Corkers Crisps come in a wide variety of flavours – and even started making crisps out of vegetables like parsnip and beetroot in 2015. Their products can be found in major outlets such as Waitrose, online on Ocado, and on various modes of transport such as trains and Easyjet flights.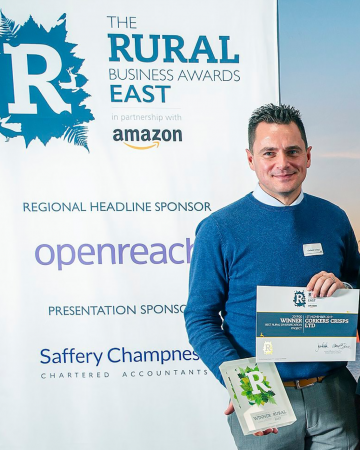 Rebecca Ruck Keene, Partner at Fisher German, praised Corkers Crisps for taking what it already had and turning it into something far greater. She said: "It's amazing how a bowl of substandard crisps on a skiing holiday resulted in a brilliant example of farm diversification. Corkers already grew potatoes on their farm, but their idea about turning them into crisps has seen their business boom. We wish them all the best in the final."
Extract courtesy of Fisher German via Rural Business Awards website
---
View the Fisher German article